Genetic counselors report one of the highest levels of job satisfaction at 94%, according to recent survey data published in 2018 by the National Society of Genetic Counselors. What is behind the high rating?
To find out, I interviewed a non-scientific sample of six genetic counselors working in three areas: clinic, private laboratory, and academia. All of the counselors were licensed or had passed the board exam, all graduated from accredited genetic counseling training programs, and all were willing to share basic information about their job descriptions as genetic counselors (i.e., work day, salary, length of service, background, training, and motivation for the career).
I summarize the findings of how genetic counselors view their jobs in the following word cloud. Words closer to the center and in larger font occurred more frequently in the interview transcripts.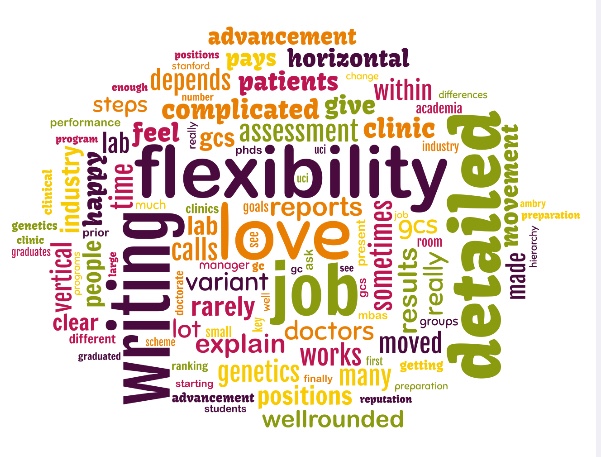 The word cloud reveals the most frequent words in my interviews with genetic counselors about their job descriptions were: love, job, flexibility, detailed, and writing.
For anyone considering genetic counseling as a career, these words provide a snapshot of some current practitioners' views about their jobs. With love at the center, it's probably hard to go wrong.