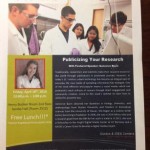 I believe in helping scientists, engineers and other professionals authentically promote their core personal projects (e.g., the things we lose track of time while doing, would do for free, or experience with passion).
Traditionally, researchers and scientists make their work known to the world through publications in peer-reviewed journals and indirectly through writers (like me!) and magazines. However, in today's work world technology has become an integral part of everyday life. It is possible to spread information quickly and directly with social media, which can potentially reach millions of people through direct engagement and community creation. Now researchers and scientists may connect their core personal projects directly with the public.
I lead an engaging workshop that helps professionals uncover and connect with their core projects, and then promote them authentically in the digital space in a way that is not exhausting and boosts career success. I give this workshop as a community service, and would love to talk about how I might help your group. If you like, ping me on Twitter @genevivebjorn to start a convo or click here to learn more about me.