Understanding a cancer diagnosis and treatment options can feel like going back to school in a nightmare. However, this time the exams are ultra invasive, and the results mean life or death. Meanwhile, high school biology feels like a very long time ago. Where is your science teacher when you need her?
Cancer Support Organizations
Receiving a cancer diagnosis is like a bomb going off in the living room: pieces of emotions and information fly everywhere. Several great organizations support people free of charge through the process of understanding a cancer diagnosis and treatment options. These include:
Cancer Commons offers support in all areas of cancer treatment. By comparison, the other organizations specialize in one type of cancer, such as pancreatic, lung, or breast. There are no limits on how many organizations a person with a cancer diagnosis may access for support. Likewise, the U.S. government offers a searchable database of clinical trials.
Ask a Science Teacher
Many people with a cancer diagnosis experience a very large gap of understanding. It can feel very frustrating. One one side, the physician or oncologist explains the situation in the office visit and often does not have time to answer every question. On the other side, patient questions about basic cancer biology typically fall outside the scope of meetings with oncologists. There is not enough time. Instead, people with a cancer diagnosis turn to the internet and search. Which information is accurate and reliable? It is hard to know as a non scientist.
High school and college science teachers can play a valuable role in helping people bridge this gap and understand the basics of a cancer diagnosis and treatment options. Further, science teachers are easy to find and often generous with their time and knowledge. To speak with a science teacher, consider cold emailing several with a request to speak briefly about the situation. Science teachers are available in the following organizations:
Biology teachers at a local high school
Biology teachers at a local community college or university
Science teachers who offer tutoring services in cell biology or genetics
Members of the National Science Teachers Association
Classroom-Based Learning in the Real World
In my tenure as a high school science teacher in biology and chemistry, I have helped many people understand their cancer diagnosis and treatment options. I adapt powerful classroom-based learning tools to help people understand their very real world situation of cancer.
Many cancers involve genetic mutations. Some cases are relatively straightforward. For example, one mutation at the BRCA1 gene is related to breast and ovarian cancers. However, other cancers present very complex mutations that increase as the disease progress. For example, a person with stage IV colorectal cancer may have more than a dozen mutations, with more surfacing at each check up. Either way, many people with cancer understand their situation better by using some learning tools.
Decision Making Tools
People facing multiple treatment options for cancer often need support with decision making. Certainly the diagnosis alone is stressful enough. Throw is a bunch of options no one understands, and oy vey!
Likewise, students in my science classes face a similar dilemma about data because they gather and analyze a lot of data. Often students have more data than their minds can make sense of easily. Therefore, we use simple, powerful tools to improve decision making.
One of these tools is a spreadsheet organized in a way that allows for comparisons. This tool is called a decision matrix. In summary, decision matrices help people make the most information decision
Example of Choosing a Treatment for Early-Stage Pancreatic Cancer
For example, a person with an early stage diagnosis asked for help understanding the various treatment options. He wanted to make the best treatment decision. I generated the decision matrix shown in figure 3.
Specifically in figure 3, there are spaces for objective medical outcomes, such as life expectancy and cancer recurrence. In addition, there are spaces for subjective outcomes that matter to him. These could include time away from work or the ability to travel within a few months after treatment, for instance.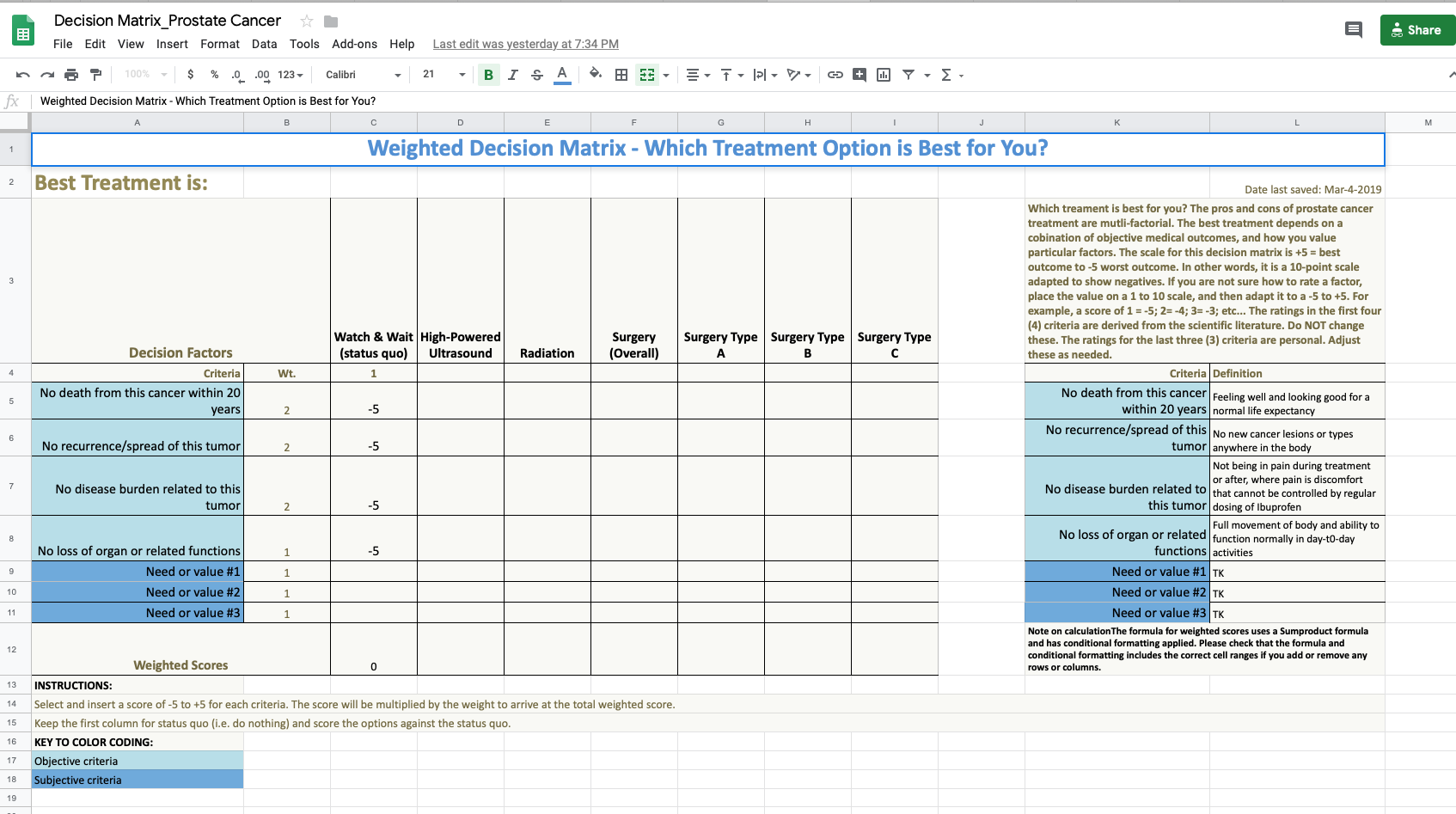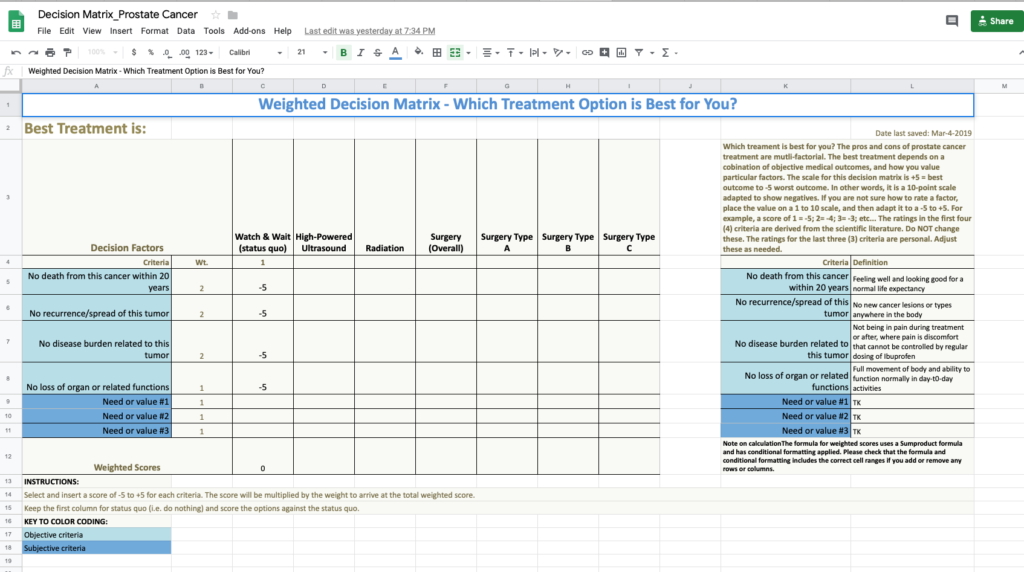 Example of Choosing a Clinical Trial for Late-Stage Colorectal Cancer
As cancers progress, the choices become more complex. For example, a person with stage IV metastatic colorectal cancer asked for help choosing a clinical trial. Subsequently, the decision matrix became more complex.
For example, figure 4 shows a screen shot of a decision matrix for clinical trials to treat late-stage metastatic colorectal cancer. There are multiple factors, weights, and trials because this is a complex cancer. There are also inclusion and exclusion criteria that, as a result, qualify or disqualify him. The grain of analysis is finer in this version than figure 3. Moreover, this particular tool can become as complex as needed.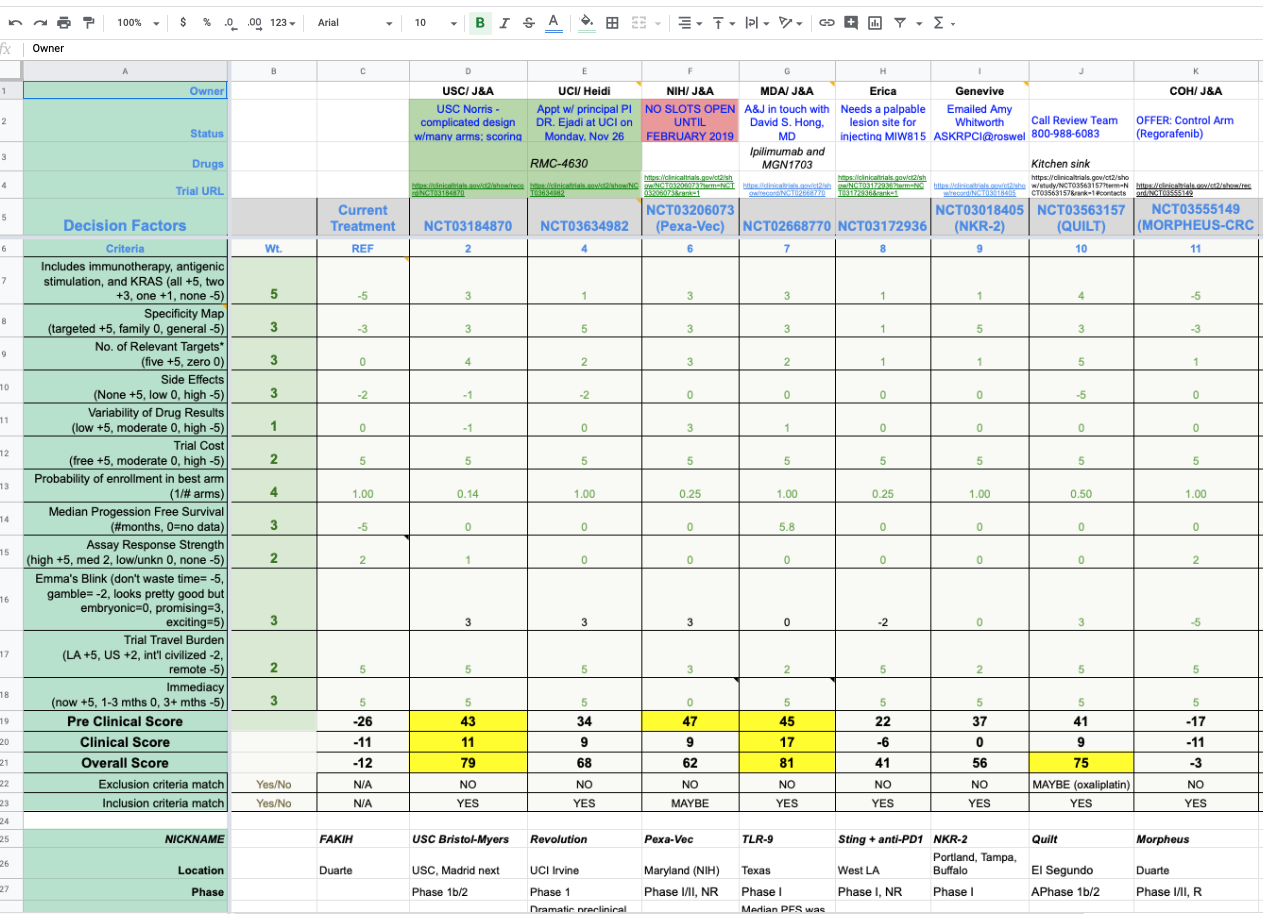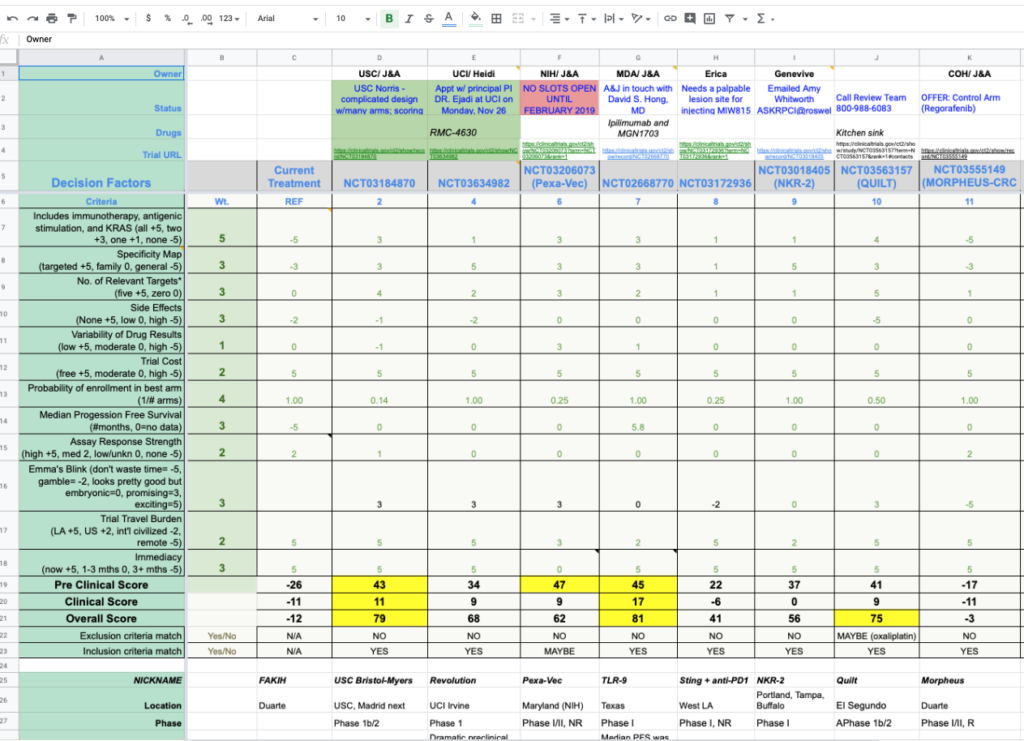 Tumor Mutation Map
Mapping is a power visualization technique that helps people easily understand a cancer diagnosis and treatment options.
Mutation maps are a technique that I adapted from my classroom to the help people understand the basic biology of a cancer diagnosis and treatment options. For example, figure 1 below shows a rough draft of a complex tumor mutation map for a case of stage IV colorectal cancer. In the biology classes I teach, I use mapping as a way to help students visualize multi-step processes or relationships in the body. It is powerful. Our brains are built to make sense of visual input, not long lists of numbers and letters.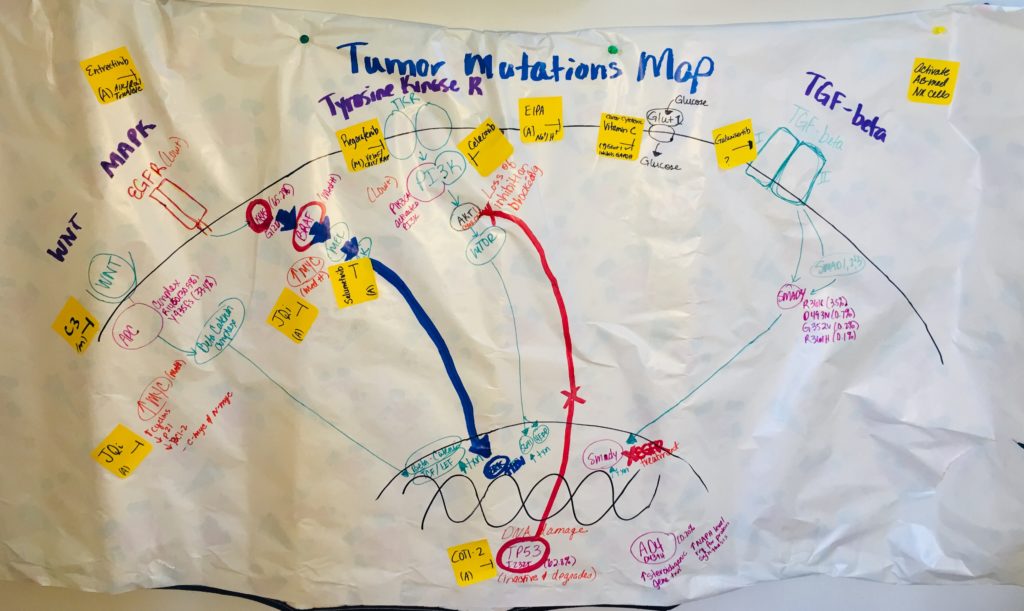 Moreover, transforming a hand drawn tumor mutation map into a digital version helps to clarify the situation. For example, figure 2 shows the map from figure 1 cleaned up and digitized for clarity and ease of understanding. The yellow tags show treatment options and the targets of their actions. Likewise, this helps people understand how different treatment options work on specific genetic mutations.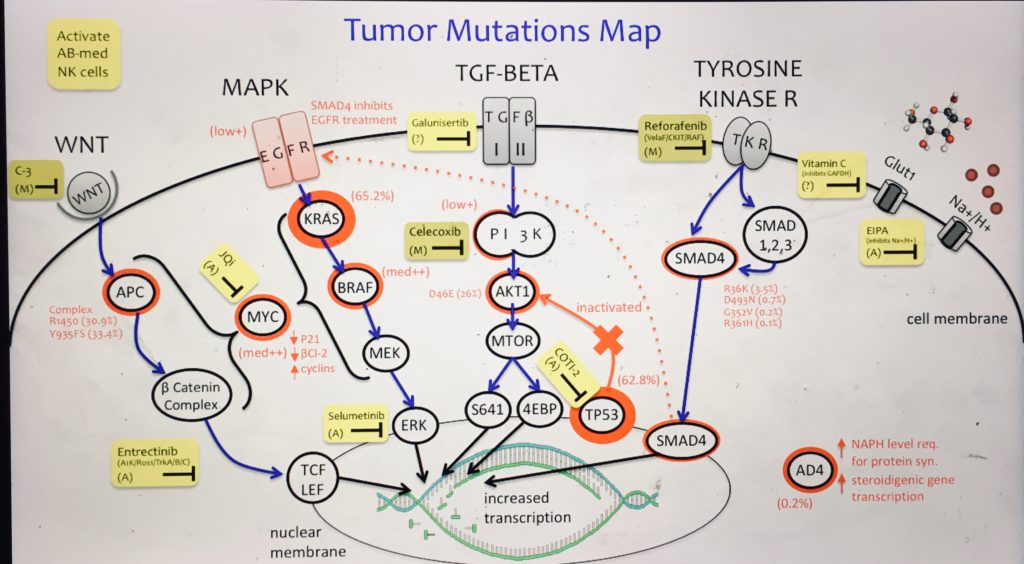 Do you have ideas for how to adapt science classroom-based learning tools to the very real-world problem of understanding a cancer diagnosis and treatment options?
If so, I would love to hear from you. Please comment below or tweet me @genevivebjorn.
Want to know more about science teaching? Check out these articles: